It was the summer of 1961. My father had been chosen by the US Interior Department to be on a team of cartographers and explorers to live in Antarctica for eight months of the 1961-62 season. There would also be scientists studying ice cores, and other investigations. This was part of the Antarctic Treaty. We kids didn't know about the Treaty. We just knew that our father would be living in an igloo and hiking all over Antarctica while we lived in Douglas, Wyoming with our Grandmother Iris Mae Thurston.
Dad would train in New Zealand for six weeks, take a barge to Antarctica. Just as he was going off on his great adventure, we three kids went to the big Converse County Frontier Days picnic. Grandma and Mom packed a large picnic basket, filled with carrot sticks, celery, peanut butter and honey sandwiches for us younger ones. The grown ups got cheese on buttered bread. There were big jars full of pickles. Small aluminum cups kept lemonade cold. Mom poured drinks out from a big, glass jar. We got thirsty running wild amidst all the horses, cowboys, cowgirls and rodeo clowns.
At one point, my brother and I crawled under the picnic table where Grandma and her pal Billy Budd were sitting. Mom was off with her high school friends. Three year old Kathi was with cousin Connie and Connie's parents a few table down.
Bob and I loved "spying" on grown-ups' conversations (although I am sure now that they were always aware of us underfoot.)
"Iris Mae, you will drive me batty with love-lorness. When are you going to let me come a'courtin'? That man of yours passed on lo these many years!" Billy's legs were right up against Grandma's long, slim, brown legs.
"Get on with you. What foolish talk. We're past all that."
"You know I fell for you the first time I seen you cuttin' cattle on that roan."
"That's a long while back. Time has flown, Billy."
"My heart still skips a beat whenever you pass by."
"You struck a hard bargain on that ranch with Ben. Nothin' but dust and flies."
"It was all right, I guess. And it paid for the dry cleaner's. You want some more lemonade?"
"As long as you let me spice it up with this here." We heard a flask screw cap loosen. "Just a drap?"
"A tiny little drap, OK Billy."
I coughed.
"Is that them young'uns under th' table! I'll be dogged! Git up here, you fiesty little thangs."
Bob and I crawled under the picnic table seat and sat opposite Grandma and Billy Budd.
"You know stories about your Grandma an' her  folks would fill a library, don't you kids?"
"No sir."
"Well, let me jist tell ya. Her an' I met when we was both workin' in a Wild West show. Not that consarned Buffalo Bill an' his trucked up horse patty mess o' lies. Jist real folks, ranch hands. Yer Grandma could shoot a gun good as any a' man. She done trick ridin' like yer Maw. We traveled round about th' Territories in summertimes." Billy stared off into space, down through the year. "She took mail out to all them ranchers, rain, shine or blizzard. Near about froze thet one time. Good luck I come along! An' not only thet, she delivered babies—cow, horse and human!" We perked up. This was fascinating.
"Kept thet little ole young'un o' yers in th' bread warmer 'til it got good n' healthy."
"What bread warmer?" I pictured Grandma placing a newborn baby into a toaster.
Grandma said, "Our old cookstove, everybody's cookstove—you'd put wood in to start a fire and bake bread or what-not, roasts and so forth," Grandma told us, "there was a small box off to the side, made of iron like the stove. You'd lay your bread loaf in there after the stove cooled down a bit, wrapped in a damp towel to keep th' bread warm. Premature babies needed to be cozy so we'd lay a little blanket in there & put the baby in it."
I was in shock. Early-born babies not in a hospital but in an oven's bread box? It sounded like something out of Grimm's fairy tales.
"Was the baby OK?" my voice quavered.
"That's your Aunt Kate. She's a ball o' fire but I reckon she's OK."
My Aunt Kate had bright red hair. She let me visit whenever I wanted to her house in Douglas, about five blocks from Grandma's. Kate painted my fingernails, set my hair in bobby-pins and I was allowed to read her wild magazines with huge headlines: LIZ AND DICK!! SHAMELESS LOVERS!!!
I was nine years old and got all my sex education from Photoplay. I knew that my Aunt Kate, who was "living in sin" (according to neighbor kids) with the Sheriff of Converse County would be featured in Photoplay one day.
"What else happened?" Bob asked, leaning forward and staring into Billy Budd's rheumy eyes.
"Wellp. Your grandaddy—you never did meet him. He died durin' th' war. Not th' war t' end all wars. Th' one after thet. He come out to Th' Territories in a Conestoga Wagon. Lived in a sod hut with all them others from Maine."
"What's a sod hut?"
"Jest a hole in th' ground. Dig a hole big enough for all th' family. Cover it up with branches and grass dug up with th' dirt still in it. Keeps cool in summer and ye don't freeze t' death in winter. If'n yer lucky!"
His daddy sold whiskey to them Indians, took Ben' along with him soon as th' boy turnt ten. Got a pert near pile o' turquoise an' furs."
"WHAT! Is that true, Grandma!" I couldn't believe my grandfather had such a wild childhood. It made me feel guilty that my great-grandfather had taken turquoise from the tribes in exchange for firewater.
"Got along good an' well with them tribals. Set an' ate a fine meal ever' time they come across a campment.
Hired some t' work th' ranch. Hardy folk. Knew th' lay o' th' land. But th' best story. Well, one o' th' best. Yer Grandaddy ran with Calamity Jane. She was crazy as a hoot loon an' follered thet Wild Bill Hickock all over th' dern place."
I had read the biography of Martha Jane Canary that very summer. "Are you kidding me!! I thought she died in 1906 or something."
"Wellp, yer grandaddy was born in th' 1870s. So by th' time he was comin' up, sixteen er so, he fixed his eye on her. Older women always more interestin' then young uns don't ya know."
"Grandma, is he lying!"
"Billy has some tall tales but the heart of them is true as a gold nugget. Ben never did court Jane. But he ran with people like that. It was early days for settlers out in The Territories. Everyone helped each other out. Drank together. Drove cattle together. Now you read about these folks and it's like history. But back then, it was just people gatherin' in saloons, workin' hard, tryin' to survive."
My eyes were nearly popping out of my head. "Billy! Then what?"
"I ort 't go backwerds in time, I reckin. Ben told me about them times when his Daddy put t' farmin' in th' Dakota Territory. Wasn't yet a state, north er' south. Up in th' mid 1870s I think it was, Iris? (Grandma was too busy folding up cloth napkins to answer him).
Billy continued, "Bad winters. Cows froze in th' field. Ever'body workin' each other's land, tryin' t' eke out a livin'. Folks wanderin' ranch t' farm beggin' fer food, fer work. Anything. Ben would've reached 'bout ten er eleven year old." Billy stopped, took a sip from his silver flask and carried on with his story:
"So here comes these two brothers. Hides tanned by th' sun, long days ridin'. Horses needin' water bad. Ben took th' horses to th' trough, got th' saddles off'n 'em. Whilst he was a-doing thet, them brothers begged yer great-grandaddy fer work. Anythin' at all. They'd cut wood, brand cattle, any damn thing, black smithin'. So yer great-grandaddy took a pity on 'em even tho' his own family was barely fed. They all struck up a fine friendship there. Them brothers sure did work hard. An' fer not just yer great-grandaddy but any an' all farmers up an' down th' line. Like them brothers, folk back then hated railroaders. Puttin' iron lines in, bustin' up cattle drivin' routes. So them two brothers was considered fine folk. When they went out doin' their other type o' work, they'd always come back an' distribute gold coins as shiny as could be."
"Who was the other type of work?! Bank robbers?" Bob shouted.
"Thet there was Frank an' Jesse James. None other."
"Grandma! Is it true?"
Grandma paused from packing up the picnic basket. "Your grandpa could weave a fine tale. I never knew which threads were pure and which were false. He did live in the Dakotas back when those James brothers took refuge there for a time. And like we say, folks helped each other out. And he did buy some of our ranch land with gold coins. So you go on to the library and do your research."
She turned to Billy, "Lord, these childrens' ears will be a-burnin' for th' next 200 years!"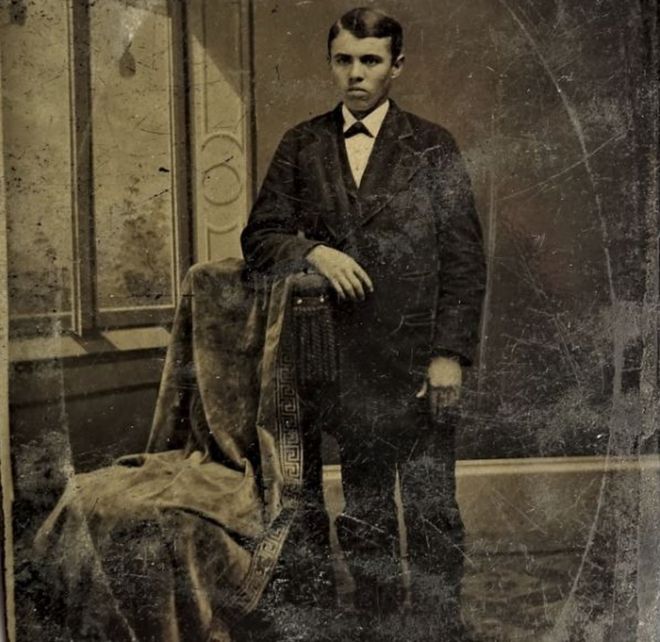 Jesse James